V support  VISCON technical support for maintenance  
V Support is to provide to the really reliable and quick service for customers by VISCON group.
Our long time experience of viscosity controller created this V support for customers convenience and satisfaction.
VISCON group started this V support 2 years ago.
We have already enjoy good reputation among our customers, such as Thailand, Philippines,Indonesia, Taiwan, Sri Lanka, China.
" If customers tried to repair, but could not repair well. "
" It took a long time to receive viscosity controller after repairing
when customers sent breakdown viscosity controller to agent or MFG for repair."
" If customer could repair simply by themselves, it would be very helpful."
These above comments are often heard from many customers in Japan and overseas countries.
VISCON Group have developed viscosity controller by the following R&D object,
R&D object :
Develop viscosity controller which ban be easily repaired by customers if viscosity controller should be out of order.
VISCON Group succeed in developing 2 latest patent technology and new design to fulfill this R&D object.
1. Developing patent technology ( "TURBO WASH" and Smart Lubrication system )
2. Easy maintenance design ( Easy pump attach/detach, Easy maintenance design of electric room, Anti-ink dirty protection design )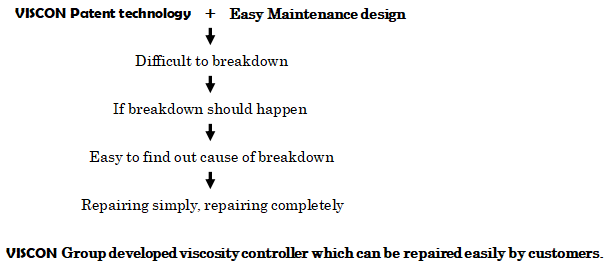 V support contents
1. V support is intended for customers who have maintenance department,
and maintain by themselves, and purchased VISCON viscosity controller
at least 6 units.
2. Mr. Itagaki (nick name : Doctor of viscsity controlelr), R&D Manager,
will teach and advise about how to repair properly.
( Principle, Construction, Important point of repairing, Model repairing )
3. Q & A ( including advise and practical model repairing viscosity controller)
aa) VISCON viscosity controller
bb) Other company viscosity controller
4. Place & Time
Place : VISCON (Shanghai) factory or customers factory
Time : 1 day ( 9:00 - 17:00 )
5. V support expense According to Viscon group V support price list.
In order to meet customers request, Viscon will make a big effort
to minimize expense.
( Adjusting items : schedule, customers cooperation for advance preparation)
6. Others
To maximize effect of V support, and to minimize expense,
from request of V support to practice of V support is estimated as 6 months.
( Because V support is required from many overseas customers.)
7. Contact :
Please send e-mail to below address. (Language : Japanese, English, Chinese )
Contact : Mr. Yutaka Matsuoka ( Japanese ) - President, Viscon Japan